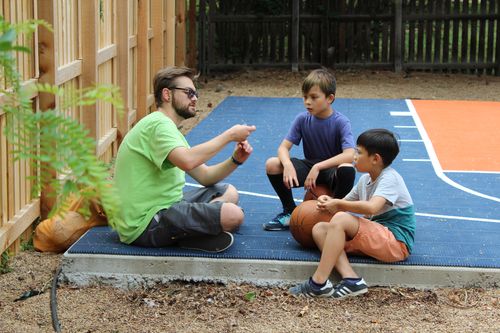 Bixby School is a community of learners and we are committed to supporting colleagues who see themselves as passionate educators and show willingness to reflect, collaborate, and adhere to the highest professional standards in their field or area of expertise.
Whole Year Program Director
Background: Founded in 1970, Bixby is an independent nonprofit school, deeply rooted in the values of progressive education. Bixby seeks to serve a community of cognitively diverse students, each of whom is deeply known and loved as an individual. Our 35 preschool and 75 K through fifth-grade students are nurtured in a rare educational community on a child-centered campus. The committed teachers at Bixby are experts in their subject area and create a customized curriculum emphasizing inquiry, critical thinking and deep understanding, while supporting individualized social-emotional growth. We provide a dynamic, extended day continuum of learning that includes summer.  Our students' days are richly balanced with academics, play, movement, Spanish, music, art, swimming in our pool, and a nourishing, chef-prepared lunch.
Student progress is tracked through authentic, whole child assessments that include an in-depth multi-dimensional rubric which was designed at Bixby.  Our three-acre facility includes an indoor swimming pool, two large sandboxes, an amphitheater, playing fields and a one-of-kind 3600 square foot playground known as Lower Yard – a maze of climbing structures and ropes, platforms and swings that make for a remarkable and imaginative play area. This is a close-knit community, permeated by a strong sense of trust and common purpose, striving to ensure that every member is respected, heard, and valued.
Summary: The Whole Year Program Director (WYPD) is a mission-driven individual who follows, models, and embraces Bixby's mission and values.  The WYPD carries a significant leadership role at Bixby and makes decisions based in the best interests of students.  As this person operates with a great deal of autonomy, executing a program of excellence in all areas — staffing, programming, internal and external communication – is key.  The before care, after care, "Bixby Blast Days," and summer programs are hallmarks of a Bixby School experience. Fostering an exceptional experience in them is a critical element of Bixby's mission.
Serving on the administrative team, the WYPD reports directly to the Head of School.  This is a full-time, salaried position beginning August 1, 2018 and renewing April 30, 2019.  The WYPD must provide on-site supervision for the entire duration of Bixby summer camp, "Bixby Blast Days" (Monday and Tuesday of Thanksgiving Week, MLK Day, President's Day, and Spring Break) and during before (7:15 – 8:30 am) and after (3:00 – 6:00) care hours on days when school is in session (typically late August through May).  In addition, the WYPD is typically on-site during regular school days for 3 hours each day:
11:30 – 12:00

(lunch)

12:00 – 1:30

(meeting/planning time)

1:30 – 2:30

(preschool)
Job responsibilities include, but are not limited to, the following:
Build strong relationships with teachers, students, colleagues, and families
Sets the tone and culture of before, after, "Bixby Blast Days," and summer program, building on Bixby's existing strengths
"Owns" all aspects of the before, after, "Bixby Blast Days," and summer program, including:
o   Directly supporting students in the before and after care programs
o   Design and execution of programming (including working with outside vendors)
o   Parent communication – both proactive and problem solving
o   External marketing and promotion
o   Plan and coordinate admissions and enrollment for summer, before, and after care
o   Overseeing accounts receivable and student scheduling
o   Working with the kitchen staff to ensure proper nutrition for students and staff
o   Executing annual budget for whole year programs
o   Staffing, including hiring, orienting, meeting with, mentoring, and evaluating staff
Ensuring that all licensing requirements are met
Ensuring that all guidelines in the Bixby handbooks are met
Providing strategic input and partnering with the Head of School and administrative team for relevant strategic decisions
Ensuring that individual student needs are met
Closing the loop on all communication in a timely and professional manner
The before/after/summer staff directly report to the WTPD
Communicating with warmth, openness, and transparency
Personal Qualities:
Enjoys spending time and engaging with young children and other educators
Bixby is a community in which continual professional growth is expected; willingness to "stretch" is critical to job success
Role model for community
Sense of humor
Belief in a differentiated, whole-child, whole-person approach to education
Education/Licensure:
Current State of Colorado Large Child Care Center Director Qualification
Experience working with populations with diverse student needs
Experience working with preschool and elementary-aged children
Bachelor's degree in education or related field
Current First Aid, CPR, Universal Precautions, and Medication Administration certification
Teaching experience
Physical Requirements:
Able to continuously walk, stand, climb stairs, and sit
Frequent bending or stooping, and reaching above shoulder level
Able to lift up to 40 pounds
Non-Discrimination:
Bixby School provides equal employment opportunities to all applicants for employment without regard to race, color, religion, gender, national origin, age, disability, sexual orientation, or status as a veteran.
Please send resume and cover letter to office@bixbyschool.org.