Emily Armiak
Early Childhood Director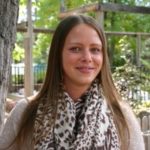 Originally from Bloomfield Hills, Michigan, Emily moved to Boulder in 1999 to attend the University of Colorado at Boulder. She received her bachelor's degree in Psychology in 2003 and is a lifetime member of the Psi Chi Honor Society. In August of 2003 Emily joined the Bixby community as a Preschool Teacher. From 2007-2011 she held the title of Head Teacher. Since 2011 Emily has served as the Preschool Director. Emily holds a Large Center Director Certification from the state of Colorado and is a comprehensive member of the National Association for the Education of Young Children (NAEYC). Emily has a deep understanding and connection to how young children thrive in the preschool environment and works diligently to instill that in the individualized curriculum she creates with her teaching staff. Emily's passion, honesty, and kindness are reflective of the energy each child brings to the classroom each day. In her free time Emily enjoys riding her horses, hiking, cooking, shopping, and spending time with friends and family.
Megan Srisamer
Assistant Preschool Director; Billing Specialist
After relocating to Colorado from New York, Megan began her career in Early Childhood Education in 1992. Once Megan earned her degree in Early Childhood Education from Front Range Community College, she ventured overseas to teach English in South Korea and Thailand for three years. While there, she earned her Teaching English as a Foreign Language (TEFL) credential from an intensive program on the gulf coast of Thailand while student teaching in middle school classrooms with local students. Upon returning from Asia, Bixby welcomed Megan into the community as Preschool Teacher in 2003. Since then, she took some time away to start a family and to teach in Boise and Austin. Megan currently holds a Large Center Director certification and an Infant Toddler Supervisor.
Taylor Strasburger
Preschool: Teacher
Taylor Strasburger came to Bixby School in the Fall of 2013. He graduated from Skidmore College in 2011 with a B.S. in Educational Studies and Creative Writing. He also earned his teaching certification for grades 1st-6th in NY where he completed his student teaching. After leaving college, Taylor moved to Colorado and spent a year working with toddlers at a small center in Boulder. In 2012 Taylor moved to NYC to work at the Bank Street Family Center, an inclusion special needs classroom, while taking classes in the graduate school. Then in 2013 Taylor made his way back to the mountains and found his way to Bixby School where he happily joined the preschool team. Taylor enjoys music and loves to sing and play the guitar with the students. When he is not in the classroom Taylor can be found hiking, camping, skiing, climbing, and just about anything else outdoors.
Shannon Tanguay
Preschool: Teacher
Shannon is originally from the East Coast, being born and raised in Windham, Maine. Shannon began her college career studying Early Childhood Education at the University of Maine at Farmington. Having spent her whole life in Maine, wanderlust struck, she moved to Colorado, and changed her major to Physical Therapy. Quickly, Shannon discovered she had already found her true passion – teaching young children. She returned to Maine and completed her degree in 2014. Colorado beckoned once again, and this time Shannon is here to stay. She looks forward to continuing her work here at Bixby, as the team teaching approach and mixed-age model has brought her many moments of happiness and discovery. Bixby students brighten her world and inspire her daily, teaching her as much as she teaches them. Outside of the classroom, Shannon enjoys listening to music, adventuring, camping, snowboarding, and relaxing at the beach.
Brooke Tye
Preschool: Teacher
Brooke has been working in early childhood education for over 20 years. Brooke first discovered her passion for teaching young children in high school where the school contained a working preschool to study and teach. Brooke went to college to become an early childhood educator and did her student teaching in inner city schools for head start, second grade, and first grade. After college, Brooke taught kindergarten, preschool, mentored and tutored foster children, and ran her own summer camp. Brooke says her most rewarding (and challenging!) role is being a mother to her children who are 13, 12 and 6! Brooke and her family are from northern Virginia and moved to Colorado in September of 2016. They live in Nederland and enjoy hiking with our dog Romeo, reading, movies, sustainability and traveling.
Alison Wolfe
Preschool: Teacher
Alison began her teaching career at Bixby in 2006; the year she moved, with her now spouse, to Colorado. Born and raised in Minnesota, she received her Bachelor of Science degree in Child and Family Studies/Early Childhood Education. The completion of her degree and student teaching assignment was spent in Costa Rica. There, she lived, taught, and experienced the life of the Costa Rican people. In continuing her education, she has earned her Large Center Director certification. Other than her passion of teaching young children, Alison enjoys the outdoors, gardening, music, bicycling, and volleyball. She lives in the Boulder area, along with her husband, 8 year old daughter, 2 year old son, dog, and two cats.
Emily Wolfson
Preschool: Teacher
Originally from Pittsburgh, PA, Emily earned her undergraduate degree in Human Development and Family Services from Penn State. After graduating, Emily was eager to try mountains and sunshine and has happily resided in Boulder for the past eight years. After a decade working with young children, Emily decided to return to school, recently obtaining her graduate degree in Social Work. She is currently preparing for the licensing exam. In her free time, Emily enjoys Jazzercise, hiking, biking, doing puzzles, watching movies, and spending time with her friends.
Do you have questions about Bixby's Prechool program or would you like take a tour? Use this form to get in touch!