Ari Hernandez
Sous Chef
arih@bixbyschool.org
I have always wanted to be a teacher because I love kids and like being around them. At Bixby, I get to be with all children in our school from the early years in preschool to our 5th graders because they all enjoy our Bixby lunches! I work as part of our kitchen team and help in preparing our delicious lunches for our whole community. I love working at Bixby because the smaller size of our school allows me to know each child, teacher and family deeply.
Amber Graff
Chef and Kitchen Manager
amberg@bixbyschool.org
After earning an undergraduate degree in English (minor in Women's Studies and Creative Writing), Amber went on to obtain her K-6 teaching certification. Following her passion for food, Amber then earned a Culinary Arts Degree from the Oregon Culinary Institute. Since then, Amber has worked as a culinary instructor in Portland and Boulder (you may recognize her from her days as resident chef at Sur la Tab), a knife wielder, and an executive chef. Most recently, Amber has worked with Hosea Rosenberg as the catering manager at Blackbelly Market. Aside from Amber's impressive resume, she is engaging, funny, and loves children.
Lynne Costain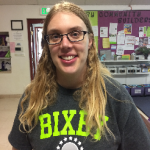 After School Staff
lynnec@bixbyschool.org
I am currently pursuing an undergraduate degree in education from the University of Colorado. When I am not at Bixby, my interests include languages, astronomy, knitting, and reading. I continue to work at Bixby because I enjoy helping students pursue their passions and develop their intellectual curiosity.
Matt Elliot
Kindergarten assistant; after school program coordinator
matthewe@bixbyschool.org
Matt has been a member of the Bixby afterschool and summer staffs since 2014. After graduating from the University of Colorado – Boulder with a degree in Environmental Science this past winter, Matt left Bixby briefly, and then realized he wants to pursue a career in education. He became our Kindergarten assistant this spring, a role he will continue next year along with resuming his duties as our after-school program coordinator. Matt has interned at the Thorne Nature Center and Eco-Cycle. He is quite fluent in American Sign Language, and is a DJ with a broad knowledge of many musical genres.
Do you have questions about Bixby or would you like take a tour? Use this form to get in touch!