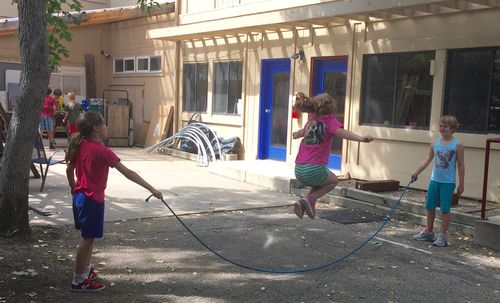 Our founders, Pat and Bart, felt strongly that taking care of children meant to provide a haven where childhood can unfold freely and with the time needed to make meaningful connections and develop lasting friendships. We have built on their vision with our quality auxiliary programs, which allow children to spend additional time on campus with well-known and beloved teachers, friends, and peers. Bixby Auxiliary Programs are open to current Bixby students.
Our programs feature:
Guided activities in response to children's interests
Free time to play alone, with others, and in small multi-age groups (divided into preschool and elementary program groupings)
Plenty of outside time, and time to move, play, and enjoy some of our very own Bixby games
Trained professionals and educators who work with our children year-round
Drop-in options are available during the academic year
Before and After Care
Here at Bixby, we believe that auxiliary programs are an extension of the school day. More than just care, students in after care are included in programming which include stimulating conversations through social justice chats, coordinating themes during the school day, PlayWorks games, meditation, and activities to encourage personal and social growth in a fun and safe environment. Students are encouraged to have autonomy in their decision making and to grow into their individuality.
Before Care Hours: 7:15am-8:15am
After Care Hours: 3:15pm-5:45pm
Drop-In Rate: $15/hr to be charged in increments of 15 minutes; please e-mail Julie at auxiliary@bixbyschool.org if your child will be dropping in for the day
After Care Schedule and Activities
Time

Activity

3:15PM-3:30PM

Check In (hallway) & Afternoon Meeting

3:30PM-3:45PM

Snack

3:45PM-3:50PM

Circle

3:50PM-5:00PM

Outside Time

4:30 PM

Gym Opens (optional)

5:00PM-5:45PM

Gym Time & Check Out

 
 
 
 
 

Afternoon Meeting Activities

 

Monday

Weekend Check In

 

Tuesday

Social Justice Chat

 

Wednesday

PlayWorks Game

 

Thursday

Read Aloud

 

Friday

Meditation/Commendations

 
Bixby Blast Days

Bixby Blast Days
Bixby School provides care on select days when school is not in session. Activities include field trips, in school performances, and camp activities. Registration for Bixby Blast Days open one month prior to start date via the Active online registration system.
Bixby Blast Day Hours: 8am-5pm
Drop-in option is not available for Bixby Blast Days
No before/after care
Lunch is not provided
2018-2019 Bixby Blast Days
October 19th
November 19th-20th (Full Day), November 21st (Half Day)
January 21st
February 18th
Spring Break Camp: March 25th-29th
Enrichment
Enrichment classes are offered every semester to current students at Bixby. Registration will open one month prior to the beginning of classes. 
Auxiliary Staff
Director of Auxiliary Programs: Julie Trinh
K-5 Staff:
Lynne Costain
Julia King
Annie Lell
Camri Stuhler
Hannah Wickenheiser
Hannah Zebersky
If you have any questions about Auxiliary Programs, please contact our Director of Auxiliary Programs, Julie Trinh, at auxiliary@bixbyschool.org.