One class per grade level with up to 14 students per grade in grades 1-5 and up to 12 students in Kindergarten.
KINDERGARTEN (K)
Assigned home classroom with lead teacher and assistant teacher; plus content teachers for geography, music and swimming.
Developmentally- appropriate practices with emphasis on the whole child with a balanced approach to academics and social and emotional growth. Many opportunities to incorporate play, movement and community into the day. Solid preparation for 1st grade with best practices.
GRADES 1 – 5
Small classes, subject-expert teachers, rich academics, swimming, art, music, foreign language; these are all hallmarks of our elementary program.
Our students thrive on leadership opportunities, rich and engaging learning experiences, and child-centered instruction that allows them to truly discover their capabilities, agency and voice as a learner, individual and community member.
Our elementary program is truly unique in that it allows our teachers to share their expertise and passion for learning with our students. We find many  ways to create, deliver and extend our curriculum so that the joy of learning, curiosity and intrinsic motivation are fostered and supported every step of our children's educational journeys here at Bixby School.
Program Hours
School Day: 8:30 a.m.-3:15 p.m. | Before Care: 7:15 a.m.-8:15 a.m. | After Care: 3:15 p.m.-5:45 p.m.
Admissions and Office Hours
Monday thru Friday: 8:30 a.m.- 3:30 p.m. | Please contact us to schedule a visit!

All elementary classes emphasize individual development of conceptual and critical thinking using exploratory and project-based curriculum models
Facts are taught in support of deeper learning; depth of study is emphasized; higher order thinking is encouraged and fostered.
To support our focus on the development of the whole child, our subject areas are grouped according to key learning processes: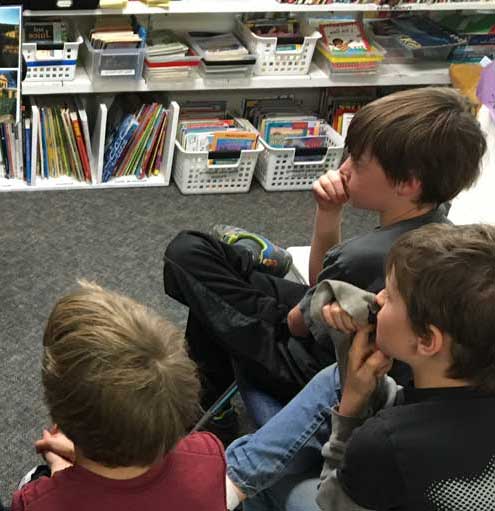 Literacy Development
Creativity, Self-Expression and Movement
Analytical Thinking, Reasoning and Problem Solving
Systemic Thinking, Social Development and Civic Participation
CURRICULUM
We utilize a variety of instructional methods with an emphasis on:
Creating purposeful activities and engaging projects that encourage thinking, questioning and discussing
Providing a variety of levels and paths of investigation
Promoting an active quest for new information and ideas
Demonstrating an abiding interest in the learning of each child
Whenever possible we promote interdisciplinary connections within and between subject area groups.