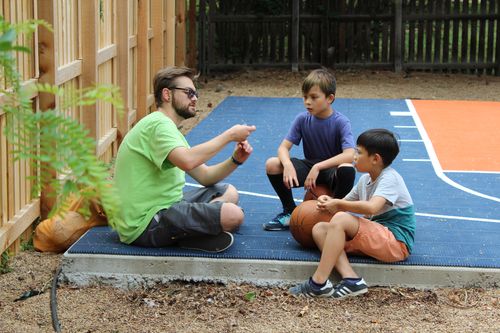 Facilities Maintenance Opportunity
Bixby School is currently seeking a part-time facilities maintenance worker. This is a part-time (25 hours/week),
hourly position with the possibility of additional hours as needed. Compensation is commensurate with
experience.
Background
Founded in 1970, Bixby School is a small independent school serving approximately 100 students from preschool
through 5th grade. Some of the defining characteristics of a Bixby education include small classes of students who
demonstrate a wide range of individual needs and strengths, and a strong focus on the social-emotional growth
independence, and creativity of students. Bixby is a close community that includes staff who have been at the
school for years and even decades, and families who have returned over generations. Bixby students are curious,
kind and fun!
Responsibilities:
● Conduct daily walkthroughs to ensure a clean and organized school environment
● Perform regular cleaning duties before and/or after school hours
● Perform preventative maintenance and routine repairs of buildings, vehicles and equipment
● Perform a wide variety of semiskilled activities such as basic carpentry, painting, etc.
● Respond to all work orders in a timely manner, with satisfactory results and excellent customer service.
● Identify opportunities for improved operation and service excellence,
● Schedule and manage repairs and maintenance, minor repairs and other work requests, tracking to
completion.
● Provide information and direction to vendors, facilities staff and other service providers as required to
ensure excellent coordination and execution of work, with minimal disruption.
● Assist skilled tradesmen on special projects as needed
● Responsible for snow removal (prior to school opening at 7am)
● Perform routine grounds maintenance such as mowing, light trimming and weed removal
● Respond to emergency situations during and after hours to resolve immediate safety concerns
● Other duties as requested
Skills:
● Able to plan and organize tasks to completion within a timely manner
● Adaptability to changing priorities, work constraints and OSHA regulations
● Perform multiple tasks and upgrade skills as needed
● Physical ability including lifting, carrying, climbing, kneeling, etc.
● Able to maintain and conduct basic repair of HVAC, electrical, plumbing equipment and perform
carpentry, repair work, construction and renovation work.
● Able to drive pick-up truck and operate snow removal equipment.
● Excellent hearing required to hear portable radio, fire alarms, machinery, guests.
● Excellent vision required to inspect, maintain equipment. Excellent speech communication skills required
to respond on portable radio to base station, guests.
● Moderate comprehension and literacy required to maintain logs and records.
Experience:
Minimum of 6 months successful experience in equal or similar activities
Personal Qualities:
● Dependable, responsible, and patient
● Grooming and hygiene appropriate to working around young children, staff, and parents
● Models the school values of Respect, Responsibility and Empathy in their actions and words
● Demonstrates initiative
● Enjoys working in a school environment
Physical Requirements:
● Able to continuously walk and/or stand in and out of doors; Potential continuous standing may be
required
● Frequent bending or stooping, and reaching above shoulder level
● Ability to routinely perform light lifting of 1-20 lbs., with occasional moderate lifting of 21-60 lbs.,
infrequently, lifting more than 61 lbs.
● Frequently pushes or pulls objects up to 60 lbs., with occasional pushing or pulling of objects over 61 lbs.
● Frequent climbing of stairs, and possibly some use of step stools and ladders
● Come into contact with various chemicals 2-3 times per week. (Regular chemicals: solvents, adhesives,
paints).
● Frequent bending and kneeling required to perform inspections and repairs.
● 100% mobility required -must respond quickly to emergency.
● Climbing stairs of approximately 90 steps 20% of 8 hours. Climbing ladders of approximately 8 feet 10% of
8 hours.
● Driving -sometimes necessary to drive school pick-up truck
● Operate snow removal equipment (may include shoveling, snow blower and/or snow plow) approximately
10% of time, unless snow emergency, then 100% of time.
Non-Discrimination:
Bixby School provides equal employment opportunities to all applicants for employment without regard to race,
color, religion, gender, gender expression, national origin, age, disability, marital status, sexual orientation, or
military status.
Application:
Submit letter/email of interest, resume, and three current references. Send your materials to Megan McGlynn,
Director of Operations and Finance, meganm@bixbyschool.org or 4760 Table Mesa Drive, Boulder, CO, 80305.
Position will remain open until filled.
A background check will be completed for applicants being considered for employment.