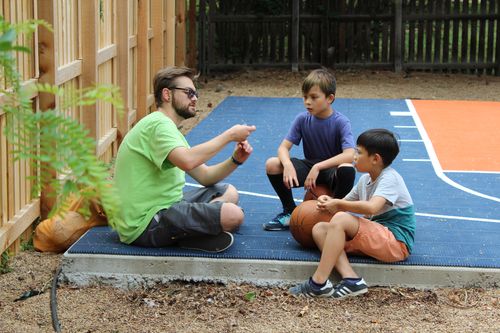 Full-Time Preschool Teacher
Bixby School is currently seeking a full-time, year-round early childhood educator to join our preschool team.  The ideal candidate is joyful and creative with a driving desire to know and inspire each student.   This is a salaried position with competitive benefits, including paid time off, fully-paid health insurance, tuition remission, and daily lunch prepared by our in-house chef.
Plan for 2020-21: Joyful learning 5 days a week in person with a remote option
Our priority for the 2020-21 school year is to deliver outstanding experiences for children to learn and grow, in person 5 days a week, with the option to participate remotely.  In support of this goal, Bixby is utilizing our 2.5-acre campus to deliver instruction outdoors as much as possible, as well as implement a host of measures to mitigate risk of disease spread when using our indoor classrooms. Bixby School's plan for delivering a mission-aligned program to students and families during the 2020-21 school year is available here.
Background
Founded in 1970, Bixby School is a small independent school serving approximately 100  students from preschool through 5th grade. Some of the defining characteristics of a Bixby education include small classes of students who demonstrate a wide range of individual needs and strengths, and a strong focus on the social-emotional growth independence, and creativity of students.  Our students' days are richly balanced with academics, play, movement, Spanish, music, art, sports, and a nourishing, chef-prepared lunch. Bixby is a close, supportive community of positive, dedicated staff and families who have returned over generations.   Bixby students are curious, kind and fun!
Responsibilities:
In light of Bixby's mission and core beliefs, and the children's developmental needs works collaboratively with the other preschool teachers to create a welcoming, safe, and positive learning environment
Initiates and designs classroom activities and study units for students
Supports students in a developmentally appropriate manner with self-care tasks
Provide appropriate supervision of students; Keeps track of children via direct supervision and our check-in/out system
Regularly monitors and records learning, changes, growth, challenges, and celebrations children experience, and shares these with parents through weekly posts to Homeroom app and in our electronic newsletter and as needed via family conferences
Responds to parents in a courteous, professional manner, and keeps the Early Childhood Director informed of parent communications
Completes work flow for the day in a timely manner, including: planning and materials set up, supervising activities, and cleaning up
Follows all health, safety, and sanitation expectations
Participate sin staff meetings and in-service days
Skills/Training/Experience: 
Excellent communication skills, both verbal and written
Demonstrated ability to develop and maintain rapport with children
A steady, consistent manner and the ability to set clear limits and expectations
Communicates with children in a positive, empowering manner
A creative thinker and problem-solver
A collegial professional who thrives in a collaborative environment
Certification/Education:
Certified early childhood educator
Large-center director certification highly desirable but not required
Personal Qualities:
Enjoys being part of a team that requires the collaboration and independence needed to create a dynamic program
Flexible and optimistic
Dependable, responsible, and patient
Grooming and hygiene appropriate to working with children, staff, and parents
Models the school values of Respect, Responsibility and Empathy in their actions and words
Physical Requirements:
Able to continuously walk and/or stand for at least 3 hours, in and out of doors; some light running
Able to do fine and gross motor movements related to teaching/playing sports, cooking, and craft types of activities
Frequent bending or stooping, and reaching above shoulder level
Ability to routinely perform light lifting of 1-20 lbs., with occasional moderate lifting of 21-60 lbs., infrequently, lifting more than 61 lbs.
Frequently pushes or pulls objects up to 60 lbs., with occasional pushing or pulling of objects over 61 lbs.
Frequent climbing of stairs, and possibly some use of step stools and ladders
Non-Discrimination:
Bixby School provides equal employment opportunities to all applicants for employment without regard to race, color, religion, gender, gender expression, national origin, age, disability, marital status, sexual orientation, or military status.
Application: 
Submit letter/email of interest, resume, and three current references. Send your materials to Emily Armiak, Early Childhood Director, emilya@bixbyschool.org or 4760 Table Mesa Drive, Boulder, CO, 80305. Position will remain open until filled. A background check will be completed for applicants being considered for employment. You will also need to provide proof of graduation or equivalent and/or coursework.
A background check will be completed for applicants being considered for employment.