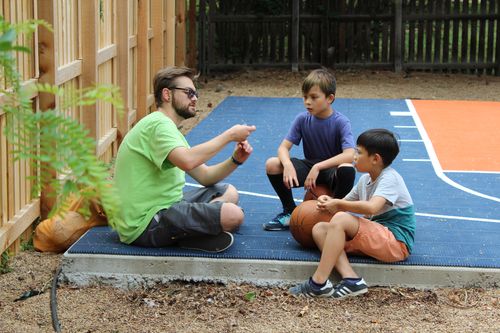 Auxiliary Programs Coordinator
Bixby School is currently seeking an Auxiliary Programs Coordinator. This is a year-round, hourly position with hours that vary from 30 per week to approximately 45 during Blast Day weeks and Summer Camp.  The Auxiliary Programs Coordinator reports to the Director of Operations. The Auxiliary Programs Coordinator must provide on-site supervision for the entire duration of Bixby summer camp, "Bixby Blast Days", and during after care hours on days when school is in session. Compensation is commensurate with experience. 
The Auxiliary Programs Coordinator is a mission-driven individual who follows, models, and embraces Bixby's mission and values, and makes decisions based on the best interests of students.  A core belief of Bixby School is that "support for families and continuity for children that builds upon the rich learning environment and social setting of the school day are critical elements of an effective extended day program." As such, the before care, after care, "Bixby Blast Days," and summer programs are hallmarks of a Bixby School experience. Fostering an exceptional experience in them is a critical element of Bixby's mission.
Background: Founded in 1970, Bixby School is a small independent school serving approximately 100 students from preschool through 5th grade. Some of the defining characteristics of a Bixby education include small classes of students who demonstrate a wide range of individual needs and strengths, and a strong focus on the social-emotional growth independence, and creativity of students.  We provide a dynamic, extended day continuum of learning that includes summer.  Our students' days are richly balanced with academics, play, movement, Spanish, music, art, swimming in our pool, and a nourishing, chef-prepared lunch. Bixby is a close community that includes staff who have been at the school for years and even decades, and families who have returned over generations.   Bixby students are curious, kind and fun!
Job Responsibilities: Job responsibilities include, but are not limited to, the following:
Ensures that the Auxiliary programs embody Bixby School's Mission, Values and Core Beliefs
Build effective relationships with teachers, students, colleagues, and families 
Sets the tone and culture of before, after, "Bixby Blast Days," and summer program, building on Bixby's existing strengths
With direction from Director of Operations coordinates all aspects of the before and after care, "Bixby Blast Days," and summer program, including:

Directly supporting students in the before and after care programs 
Design and execution of programming (including working with outside vendors)
Parent communication – both proactive and problem solving
External marketing and promotion
Plan and coordinate admissions and enrollment for summer, before, and after care 
Overseeing student scheduling
Work with the kitchen staff to ensure proper nutrition for students and staff
Incur expenses in compliance with the annual budget for auxiliary programs
Staffing, including hiring, orienting, supervising, mentoring, and evaluating staff

Maintain compliance with all licensing requirements by auxiliary programs, including the requirement to remain on-site for a minimum of 60% of the time that any auxiliary programs are in operation
Ensuring that all guidelines in the Bixby handbooks are met with regard to auxiliary programs
Providing strategic input and partnering with the leadership team for relevant strategic decisions 
Ensuring that individual student needs are met, including coordinating the flow of information with other faculty with regard to students regularly enrolled in Bixby's school program
Closing the loop on all communication in a timely and professional manner 
The before care/after care/blast days/summer staff directly report to the Auxiliary Programs Coordinator
Communicating with warmth, openness, and transparency
In addition to the School Age Summer Camp responsibilities, the Auxiliary Programs Coordinator is responsible for supporting the camper schedules, staff schedules, and assisting in the day-to-day operations for the Preschool Summer Camp. 
Personal Qualities
Enjoys spending time and engaging with young children and other educators 
Bixby is a community in which continual professional growth is expected; willingness to "stretch" is critical to job success
Positive role model for community; demonstrates the school values of Respect, Responsibility and Empathy in their actions and words
Sense of humor 
Belief in a differentiated, whole-child, whole-person approach to education
Education/Licensure:
Current State of Colorado School Age Program Director Qualification or eligible for verification with the Colorado Department of Health and Human Services. (reference 7.712.42 SA Rules)
Experience working with student populations with diverse needs
Experience working with preschool and elementary-aged children
Bachelor's degree in education or related field
Current First Aid, CPR, Universal Precautions, and Medication Administration certification 
Teaching experience with preschool and school aged children highly desired
Physical Requirements:
Able to continuously walk, stand, climb stairs, and sit
Frequent bending or stooping, and reaching above shoulder level
Able to lift up to 40 pounds
Non-Discrimination: Bixby School provides equal employment opportunities to all applicants for employment without regard to race, color, religion, gender, national origin, age, disability, sexual orientation, or status as a veteran.
Application: Submit letter/email of interest, resume, and three current references. Send your materials to Nina Lopez, Head of School, ninal@bixbyschool.org or 4760 Table Mesa Drive, Boulder, CO, 80305. Position will remain open until filled. 
A background check with will be completed for applicants being considered for employment. 
(Rev 1/6/20)