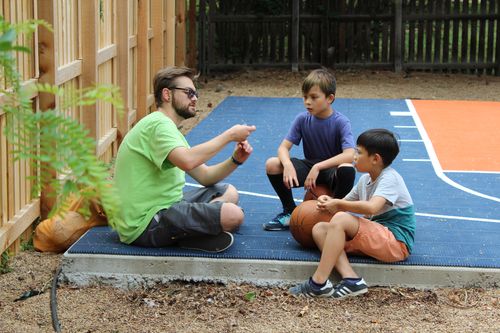 Full-Time Year-Round Preschool Teacher
Bixby School is currently seeking a joyful and creative preschool teacher to join our classroom of exceptional faculty.  This position is full-time, year-round.  Bixby's Preschool is a play-based, mixed-age (2 ½-5 years) classroom.  Student:teacher ratios average of 1:7 and total enrollment is no more than 30 children.  Our experienced early childhood faculty actively discover children's interests to design exploratory learning experiences that engage children in authentic and joyful discovery. The ideal candidate is energetic and creative with a driving desire to know and inspire each student.
Work Schedule/Hours: 40 hours a week; 12-6pm Mondays, Wednesdays and Fridays; 9am-5pm Tuesdays and Thursdays (some flexibility may be possible)
Position Summary: A Core Belief of Bixby School is that "committed, well-qualified teachers are fundamental to the success of our school." As a Bixby School teacher, you will nurture students' cognitive, academic, social and emotional growth and development in a manner that reflects Bixby's mission to: "compassionately empower children with critical thinking skills, self-confidence, independence and a love of learning; develop their individual gifts; and prepare them to make meaningful contributions to the world."
Essential Duties and Responsibilities
Within a mixed-age classroom, and co-teaching model,

Design and deliver curriculum
Prepare and differentiate lessons and student learning experiences
Support students' social-emotional and academic development
Ensure proper health and safety measures are implemented regularly, including proper sanitizing and disinfecting
Student supervision, including lunch, Yard supervision, etc.

Support the mission and core beliefs of Bixby School
Model Bixby's values of Respect, Responsibility and Empathy
Participate in  faculty meetings, professional development and staff meeting
Document student growth and performance using authentic, mission aligned evidence (e.g. student work, photos/videos, student  reflections, observations, etc.)
Respond to parent inquiries and participate in parent conferences
Promptly document any student concerns, including academic, behavioral, physical, emotional or social; and notify the Head of School or other appropriate school administrator
Maintain current knowledge of topics relevant to your classroom
Prepare for and participate in school-wide events such as Back to School Night, Portfolio Night and Early Childhood Art Show
Such other duties as may be assigned from time to time
Qualification Requirements:
Certified Early Childhood Teacher by the state of Colorado
Early Childhood Director qualified highly desired, but not required
Experience working with student populations with diverse gifts and support needs
Current First Aid, CPR, Universal Precautions, and Medication Administration certification
Enjoys spending time and engaging with young children and other educators
Committed to personal and professional growth
Sense of humor
Self-aware; able to ask for help when needed
Curious about others and the world around them
Belief in the value of a diverse community and committed to foster an inclusive environment for a diverse community
Committed to a differentiated, whole-person approach to education
Excellent oral and written communication skills
Highly collaborative
Physical Requirements:
Able to continuously walk, stand, climb stairs, and sit
Frequent bending or stooping, and reaching above shoulder level
Able to lift up to 40 pounds
Compensation: This position is a salaried, exempt position.  Annual gross salary for this position is between $30,000-$45,000, depending upon qualifications.  Full-time employees of Bixby School receive a competitive set of benefits including fully-paid health insurance (with the option to purchase insurance for family members), access to a tax-deferred retirement plan, paid time off, tuition remission for children of all full-time employees, and daily chef-prepared lunch.
Inclusive Community; Non-Discrimination: In pursuit of our mission to "…prepare [children] to make meaningful contributions to the world", Bixby School actively works to foster a diverse community, in which all students, families, faculty and staff are full and accepted members of the school community,
Bixby School provides equal employment opportunities to all applicants for employment without regard to race, color, religion, gender, national origin, age, disability, sexual orientation, or status as a veteran.
Application: Submit letter/email of interest, resume, and three current references. Send your materials to Nina Lopez, Head of School, ninal@bixbyschool.org or 4760 Table Mesa Drive, Boulder, CO, 80305. Position will remain open until filled.
A background check will be completed for applicants being considered for employment.