Librarian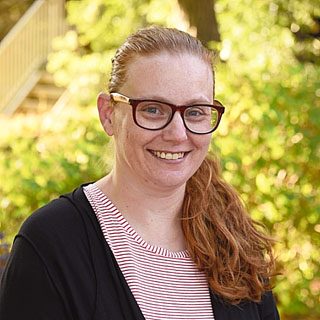 Kelley Presley
Librarian
kelleyp@bixbyschool.org
University of Central Oklahoma, B.A. in English
San Jose State University, Master's in Library and Information Science
Bixby School since 2019
Learning and knowledge have always been very precious to me; growing up with bookworm parents and in a home filled with bookshelves led to several years of volunteering in school libraries. My very first paid job was as a shelver at my local public library branch, and sometime later I was again helping people in a library as a circulation clerk for five years.
I earned my Master's in Library and Information Science in December of 2017. During graduate school and a bit afterward, I volunteered my time and effort to working in Bixby's library until I took a full-time library position in Fort Lupton, where I am currently. I am extremely passionate and dedicated to lifelong learning for everyone, which is why I'm also Bixby's librarian! It is my full intention to care for Bixby's library in a way that respects the history of the school and its collection while embracing more current library procedures.
Our family moved to Boulder in 2014. My son Cadence has attended Bixby since preschool in 2014, and he is through-and-through a Bixby kid. When I am not working, I enjoy spending time with my family, reading, crafts, movies, and hanging out with friends.