Thank you for your interest in Bixby School! Whether you are looking for a preschool, Kindergarten, or elementary school program, finding the right educational community for your child can be an overwhelming process. We want you to get to know our school community and to work with you in a thoughtful and well-supported process to determine if Bixby School is the right fit for your family.
Before submitting an application, we ask that parents and guardians visit Bixby by scheduling a private tour or attending an admissions event. Regardless of the program you are interested in, you will have the opportunity to learn about our progressive philosophy and the uniquely Bixby approach to education. All students will get to visit Bixby as part of the application process as well.
In the meantime, please begin your journey getting to know our programs and community through our website, Bixby Blog and Facebook page or check out this article from NAIS (National Association of Independent Schools) – What Makes An Independent School so Special?
We are looking forward to sharing Bixby with you and your family. Please email Danielle Hermon, Director of Admissions & Advancement directly to set up a tour. admissions@bixbyschool.org.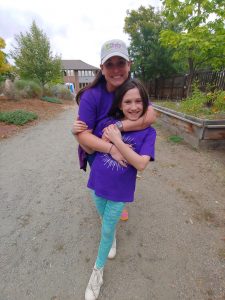 Danielle, Director of Admissions & Advancement with her daughter, Bixby Graduate, Sydney.