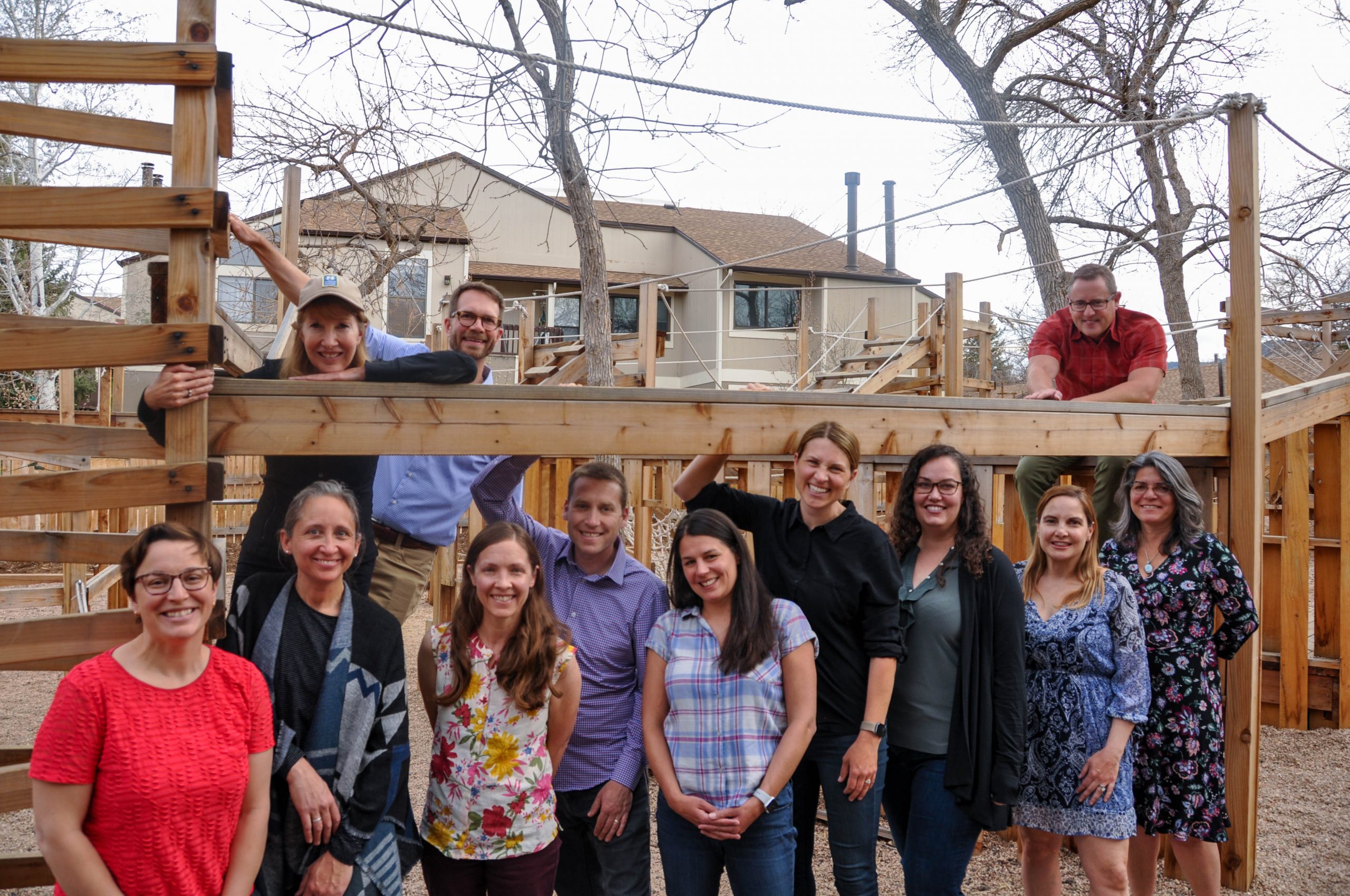 Bixby & Associates, d.b.a. Bixby School, is a non-profit corporation, 501(c)(3), with legal and fiduciary management authority vested in a Board of Trustees and operational management authority vested in the Head of School. The Board of Trustees oversees the hiring, supervision, and evaluation of the Head of School and the planning for the fiscal and strategic stability and longevity of the school.
Stephanie Raessler
Board President
I grew up in Cleveland and attended the College of Wooster where I received a BA in International Relations/Economics. After graduation, I worked in Washington D.C. until my husband and I decided to experience life "out west". We packed up and moved to Denver where I completed an MA in Global Finance at the University of Denver, and we loved Colorado so much that we decided to put down roots! I've worked for MarkWest Energy Partners in Denver since 2007, managing the company's credit department which is primarily responsible for evaluating financial risk.
Our two great kiddos both attended Bixby Preschool and are now in the K-5 school.
When I'm not working or playing with the kids, you can find me gardening, cooking, or knee deep in non-fiction.
My favorite thing about Bixby is how it has supported our kids in becoming more independent, confident versions of themselves. Long ago the Bixby founders realized that children are naturally curious, capable problem-solvers and that the role of education is to support this, not just to impart academic content. We love that Bixby supports this in every aspect of our kids' day, from honoring the role of play to how Bixby's classroom spaces welcome movement and exploration, to the role mealtimes play in community building and how deep, reflective learning is given space to unfold naturally and sustainably, and how consistent care, both before and after the school day and throughout the year, helps all of us to thrive. I love that when you walk into Bixby it's unlike any school you've ever been in—and the kids will tell you why all of these differences matter. Because of Bixby our kids love going to school, they are thinkers and questioners and their love of learning has remained strong and joyful. My husband and I feel this is the best gift we can give them, and the best investment in their future that we can possibly make.
Trustee since: April, 2016
Why I joined the Board: This school has supported and nurtured our entire family—I want to make sure as many other families as possible have the same opportunity.
Paige Backlund Jarquin
Board Vice President
I was born and raised in Boulder and as a child visited my mom at work when she was teaching reading at Bixby with Pat, Bart, Mark and other early Bixby pioneers. As a young child, I remember the treehouse feeling of the building, the warmth of the community, and a sense of a love of learning among the students.  Now as a parent of a Bixby alumni and a current 3rd grader, there is no question that the Bixby magic I felt as a child remains today.
My passion is authentic community engagement and I work with an amazing team of mental health professionals at a small center of excellence at Children's Hospital called Partners for Children's Mental Health. In addition, several nights a month I facilitate veteran engagement boards with the Denver-based Veteran's Administration.
When not at Bixby or working, our family loves going out of our way to find some good ice cream, building and creating things for our home, snuggling the family hamster or watching our chickens find treats under the soil.
Anne Pizzi
Board Secretary
My sister and I attended Bixby, and we give Bixby credit for teaching us to enjoy learning, dive deep into our own interests, and use our free time well. My two daughters now attend Bixby, and it has been wonderful to see how Bixby supports them both as they each develop into their own person. My favorite things about Bixby are the magic of Lower Yard and the openness of Free Time. I appreciate that the school provides daily lunch, a heated pool, and seamless before- and after-school care, and I love that my kids have protected time for physical play, focused projects, and unstructured time. I joined the Board of Trustees in 2018.
Noah Abrams
Trustee since February, 2021
Katherine Heaton
Trustee since April 2022
My brother and I went to Bixby when we were kids. Bixby instilled a deep love of learning and a passion for pursuing intellectual interests, never feeling like there was something we couldn't do, instead reveling in the challenge of it. When I first had kids we weren't living in Boulder and I kept trying to find something like Bixby for them. I wanted a school that would teach my kids to think, rather than just memorize, and treat them as individuals. I finally had the opportunity to move back to Boulder and my kids are thriving at Bixby. In my free time, I like working on puzzles, playing board games, going to the farmers market, and enjoying the surrounding nature Boulder has to offer.
Michelle McCloskey
Trustee since April 2022
My son started at Bixby in August of 2020. We enrolled him at the time largely due to the COVID pandemic. We had no idea we were about to join such an amazing community. Over the course of his first year at the school, we began to understand the extraordinary aspects of a Bixby education. Bixby encompasses the well-being of the whole child, teaching our son how to be a kind and thoughtful human. His teachers have consistently been outstanding. They spark his innate curiosity to explore and learn. The individual attention he receives allows him to be challenged at the right times. He truly loves getting up every day and going to school.
Being a Bixby trustee will allow me to be part of the community that lays this unique foundation for such important learning. I am looking forward to joining the team that contributes to the growth and mission of Bixby.  As a pediatrician, children's mental health and well-being is of particular importance to me. These last few years have certainly highlighted this need in my own patient population. I hope my time as a Bixby trustee will allow me to share and expand upon this knowledge and commitment to children in my community.
 In my free time, I enjoy practicing yoga, gardening, hiking, spending time with my family, and finding the beauty in ordinary days. 
Jared Olson
My wife, Melody, and I are originally from Colorado and we both graduated from CU Boulder. After several years away (most recently in Seattle) we returned to Colorado in 2016 to be closer to family. Our two kids have thrived at Bixby since joining in 2020 and we have watched them develop socially, emotionally, and academically in healthy and heartwarming ways with the guidance of talented and caring Bixby teachers. Apart from Bixby, I'm a physician who cares for people with disabling neurological and musculoskeletal conditions. I enjoy outdoor activities with my family and generally going where our interests take us. I joined the Bixby Board in February 2021 because I am grateful for the opportunity for our kids, and I wanted to support the school to help ensure that Bixby is a model community resource for generations to come.
Holly Sprenkle
CASA (Court Appointed Special Advocate) volunteer – 10 years, Alumni interviewer for Tufts University – 14 years, Adult Literacy tutor for Boulder Reads – 2 years My undergraduate degree was in Child Study and I was certified in elementary education. I worked for a year as a child advocate in Boston, after law school I was a public defender in Los Angeles for 10 years (including working on hiring and recruitment), worked in litigation for several Denver firms and have worked on a project basis for an e-discovery company for the last 10 years. When I was a parent at Bixby I was head of solicitations for Auction, Auction Chair, and an occasional substitute teacher. My daughter, Julia – a Bixby alum- is a senior this year. How long on the board: New this year. Why on the board: I am interested in education and giving back to organizations like Bixby that I believe in. My daughter will be going away to college next year, and I only work part time on a project basis, so I have time to dedicate to the Board. I am interested in education and I am also very grateful for the education my daughter received at Bixby.