Ready to Donate?
If you are ready to donate, click HERE to donate online. Are you interested in donating stock or your RMD? Contact Danielle at development@bixbyschool.org.
Bixby & Associates is our official name and it is a qualified nonprofit corporation under section 501(c)(3) of the Internal Revenue Service.  Our Federal Tax ID No: 84-0766841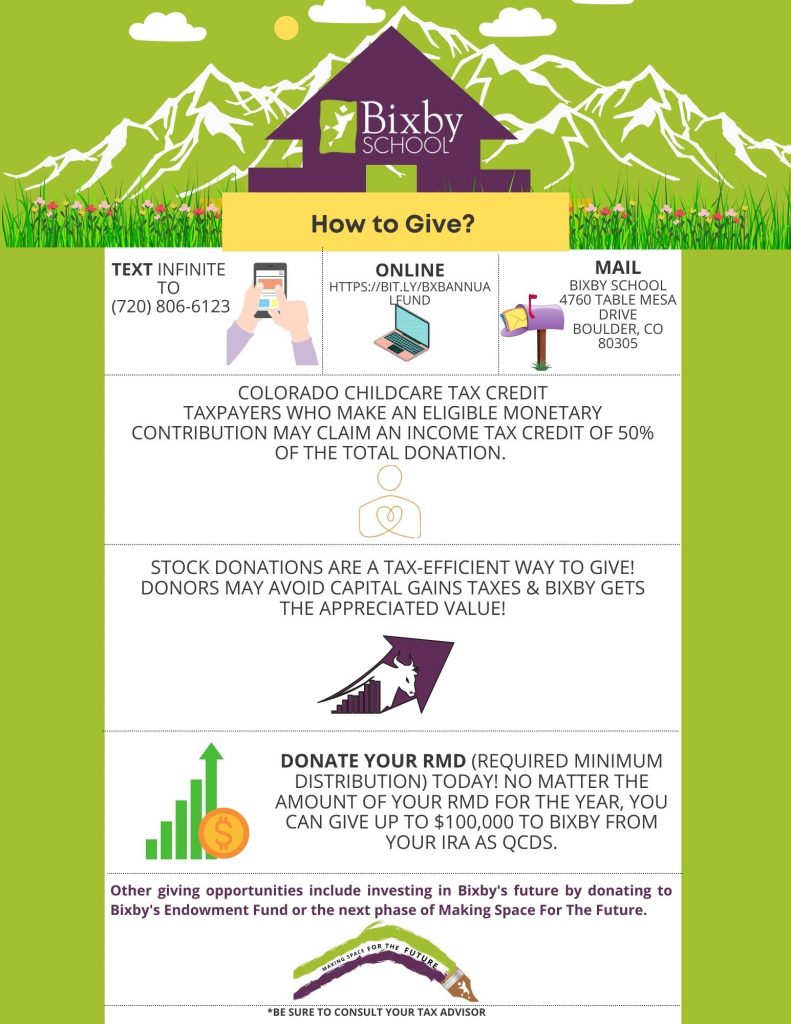 How exactly does giving at Bixby work?
Like all independent schools, Bixby relies on family support — time, treasure, and talent — to provide exceptional student experiences.  Each year, our Bixby Annual Fund takes place in the autumn.  Participation is the most critical aspect of the annual giving as it shows the strength of our community and makes us more likely to receive grants and corporate sponsorships.  Please help us get to 100% participation, and remember that whether you give $50 or $50,000, the most important thing is that everyone gives something!  You can make a pledge in the fall (we ask for all pledges to be made by December 1st) and pay it in installments or make a single payment by April 30th.
Each spring, Bixby hosts its annual auction and social, where proceeds are used to enrich classroom experiences for our extraordinary students and fabulous faculty and to build joy and community for our families. In addition, the auction always has a paddle raiser that supports a specific cause-like professional development, new computers or technology, expensive equipment, library improvements, and more. The auction is always as much a "fun raiser" as it is a fundraiser. In addition, Bixby Community Builders (BCB) holds several smaller giving opportunities throughout the year.  These include: The Handmade Holiday Market (in December) and Read-a-thon (mid-January through mid-February).
Why are families being asked to give a gift when they are already paying tuition?
This is a great question! Like all schools, Bixby relies on fundraising to deliver our incredible education. Offering extended hours, swimming, chef-prepared lunches, Spanish, Art, Music, Sports, and our incredibly low student:teacher ratio is supported through donations. Fundraising helps us build a more inclusive community, and also offers tax benefits that tuition does not. One incredible incentive is that every gift to Bixby is eligible for the Colorado State Childcare Tax Credit, a 50% credit on your state taxes. Depending on your tax bracket, each dollar you give to Bixby can cost you as little as 30 cents. Talk to your tax advisor for more information, but know that this is a significant advantage over just increasing tuition.
How will I know how my money is being used?
We take the responsibility and stewardship of your money very seriously and commit that every dollar we raise will be reflective of the Bixby mission and used with gratitude and thoughtfulness. We also promise to communicate with transparency and regularity how gifts are being used.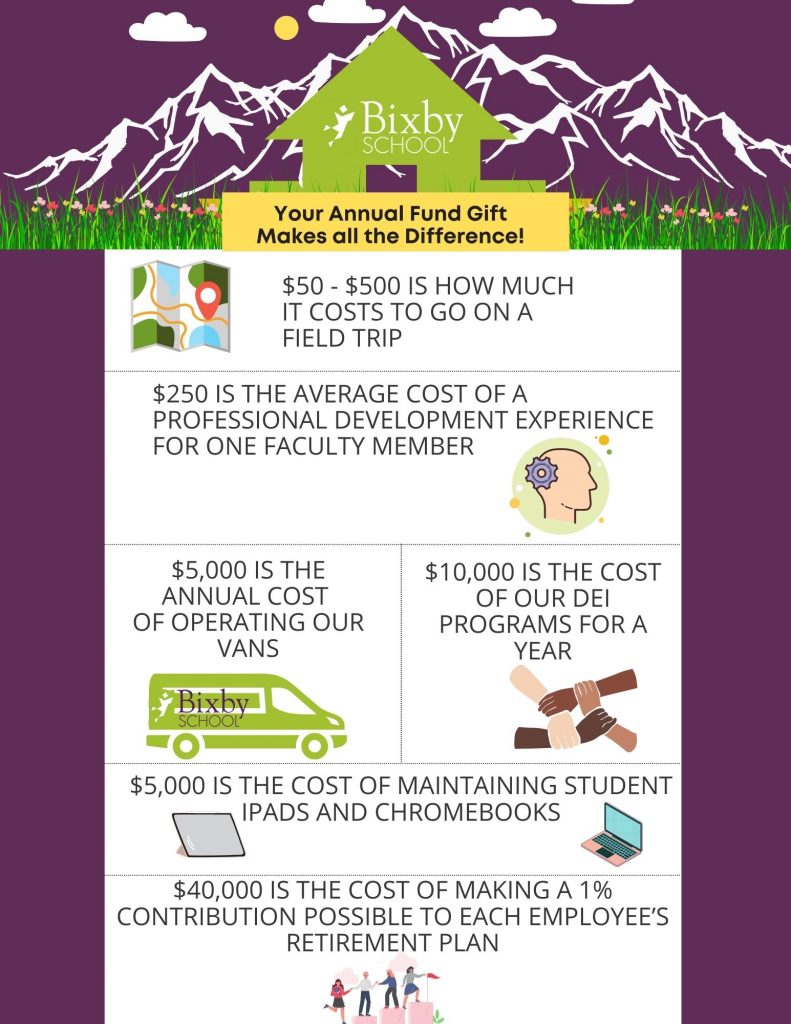 Is there a way that I can maximize my gift?
Many workplaces offer matching gifts for their employees. This is a wonderful way to double your gift to Bixby! Just check with your employer to find out if they participate in such a program and coordinate those efforts with our Director of Finance and Operations as needed.
Can I use an IRA charitible distribution to donate?
If you are 70 or older, you can give up to $100,000 from your IRA directly to Bixby School without having to pay income taxes on the money. This can also help you meet your required minimum distribution for the year.
How can I ask questions or find out more?
We would love to talk with you!  Please contact us for more information at development@bixbyschool.org.