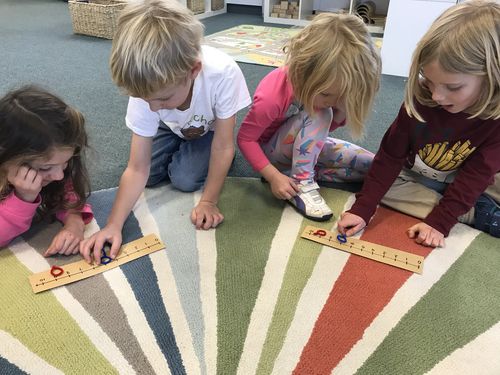 Hi! We are students at Bixby. Emma is in Preschool, Charlie is in Kindergarten, Max is 3rd grade and Brooks is in 5th grade. You are invited to spend a day with us at Bixby School. Let's go and explore!
Emma is starting her day in Preschool
I was feeling hungry, so I have already enjoyed my morning snack. Now, I am ready to play with my friends. In a little while I will go swimming, or to gym class or to music with my preschool teachers and I will meet up with my specials teachers. After my specials class, I want to play outside with a few of my friends. My teachers always listen to what we want to do and explore in preschool and we get lots of choices. When I get tired I have lots of time to nap or rest. My teachers help me go to sleep with a backrub and soft music. Last week I made a fort with my friends and this week we want to have a restaurant set up and make real pancakes in our class. We are still working on all the details. I like that I get to play at Bixby and that I get to do really cool things like swimming, singing, gym class and even having older students visit our classroom! Even when I am here all day there is always lots of time to do what I really like to do!
Charlie has just arrived in Kindergarten
We start our Kindergarten Day with group time and that is when I can share with my friends and my teacher Lisa about all the important things I did this weekend. Kindergarten is a busy day. It goes all the way until 3:15 p.m., and we do many fun things. On Mondays, we always go to Bridgewalk Pond! It is a real pond with toads, frogs, fish and all sorts of cool things to explore. Last week we brought our journals and this week we are taking nets and magnifying glasses to the pond! We also do fun things in our homeroom: we have writing workshop, math, theme work, and make really cool art. When Lisa's helper arrives our groups get even smaller and that really helps with learning how to reading, writing, and counting. We also have read aloud time and free choice time as part of our day I like having time to make my own choices. After a busy morning, I love having lunch. I sit with my friends and teachers sit with us too. After lunch we get to play outside and then we go swimming! On Thursdays we all cook together in cooking club and parents often come us to help too!
Max is beginning his 3rd grade day
Hello! I am Max. I just finished my daily group time with all my 3rd and 2nd grade buddies and now I am off to math. We are a group of eight in math. I love learning math at Bixby because we have really cool ways to build, do puzzles and work on understanding math and having fun! My other classes are a lot of fun too! I have a different teacher for each class and that makes me feel like a middle schooler! Each teacher loves what they are teaching and my groups are always small and change throughout the day. That way I get to be with all my friends over the course of the day. Some of my favorite things to do are swimming, geography and science class.
In geography we are playing a cool game where we get to be merchants on a ship on a journey from Portugal to India! Last week we were attacked by pirates and had to decide what we would do to save ourselves! Next week we get to build islands and I am already thinking about who will live on mine and what to call it. In science, our teacher has built rockets with us and we even got to look at the sun through a special solar telescope! I love that I also have free time and get to decide what I want to do. Our lofts and our lower yard structure are my favorites. I can be quiet when I need a break or go climb and play with friends outside!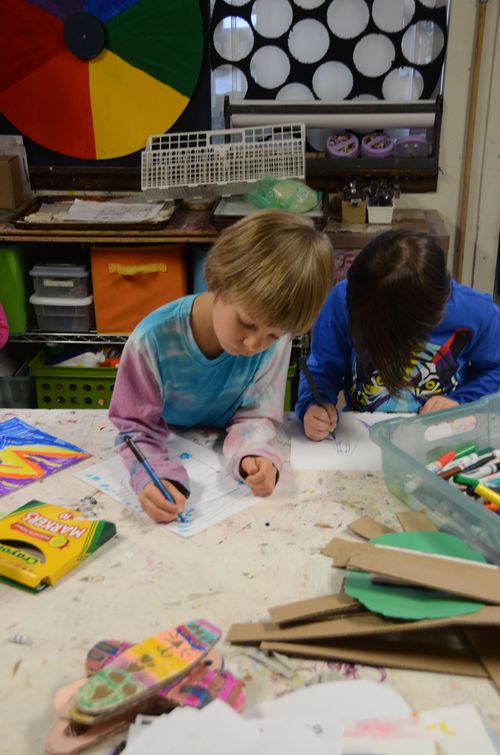 Brooks is a fifth grader at Bixby
Hi I am Brooks. I am in my last year at Bixby and that is a very special time in our school! I get to write the 5th grade play with my classmates and then we perform it for the whole school and for our parents. We also get to go to Cal-Wood for two nights in 5th grade. We will hike and stay in a couple of really cool cabins. At Bixby I really like my electives. We have them two times a week. We can choose an activity or class that our teachers or parents are offering on top of our regular classes. I have done Dance Party, played Civilization, taken the Science of Food, completed the Sewing Course and even learned more about Tinkercad in our Maker Space!
My regular classes are really cool too. In literacy, I can choose books to complete my 40 book challenge and my teacher is really helping me become a better writer. In math and science we learn a lot about ways to use numbers and data to make sense of the world around us. Did you know that there are now four confirmed gravitational waves? If you joined math club you would! In art we get to use the 3D printers and I used one with the Tinkercad program to make propellers for my science fair project. We work hard but I always have my breaks because swimming, free time and lots of time to play in lower yard or on the sports field are part of my schedule too. My mom went to Bixby, and she says: "It was the place where I learned to love learning but I also got to become me!"