REGISTER TODAY! EARLY BIRD DISCOUNT ENDS FEBRUARY 28, 2022!

Spend your best summer at Bixby!
Our Bixby Summer Camp is a play-based camp that centers around creativity and lots of outdoor play. Bixby Summer is open for campers entering grades K-6th as well as our current preschool students. Set on our beautiful 3 acre campus, Bixby Summer provides campers with a caring, safe environment to play and explore interests with the support of trained, mature counselors.
Preschool and K-6th Summer Camp Dates: 
Week1: June 6th- 10th
Week 2: June 13th- 17th
Week 3: June 21st-24th (Closed June 20th in observance of Juneteenth)
Week 4: June 27th-July 1st
Week 5: July 5th- 8th (Closed July 4th in observance of Independence Day)
Week 6: July 11th- 15th
Week 7: July 18th-July 22nd
Week 8: July 25th-29th
Week 9: August 1st-5th
Week 10: August 8th-12th
Week 11: August 15th-19th (Bixby Students Only)
Week 12: August 22nd-26th (Bixby Students Only)
Day Camp Hours:
Monday-Friday, 9:00am-3:00pm for campers between Kindergarten to 6th Grade
Monday-Friday, 9:00am-3:00pm for current preschoolers and those entering Kindergarten in the fall. Preschool has options of 3, 4 and 5 day weeks.
Extended Day Offering : 8am-9am & 3:00pm-5:45pm
Important Dates
Monday, June 20th, 2022 – Bixby Summer Camp will be CLOSED
Monday, July 4, 2022 – Bixby Summer Camp will be CLOSED
2022 Special Programs: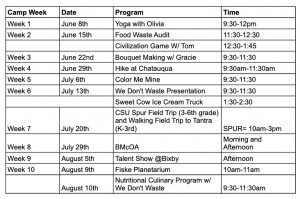 Covid Testing Requirement 
Campers are required to take a PCR test 3-4 days before the first day of their session.
You may choose to participate in weekly testing after your second week if you like
A copy of your test result must be provided to Bixby School on or before the camper's first day of camp (email summer@bixbyschool.org)
There are several FREE testing options available:
Testing at Bixby School: 
You must register each time you test:
There are several options for testing at Bixby School

You can choose between nasal swab or saliva sample testing
Self-administer: You may pick up a test kit at any time, collect the sample yourself and simply drop it off at Bixby School on THURSDAY before 4pm (NOTE If you choose this option, please select a testing time between 10am-12pm)
Collection at school: A certified MA is on-site at Bixby and can collect the sample for you between 12-2pm each Thursday.
On your first day
On your first day at Bixby this summer, please arrive 15 minutes early for you and your child to sign in and get acquainted with the facility.
Each child has a designated cubby to store their personal items. They are welcome to leave things in their cubby for future weeks.
PLEASE LABEL EVERYTHING WITH YOUR CHILD'S NAME
Please bring the following items to the first day of camp:
Swimsuit and towel (this will stay here for future use)
Water bottle is essential.
Snacks – they can not be refrigerated or heated; you can keep a stash of non-perishable items in the cubby.
If you do not want your child to use camp-provided sunscreen, bring your preferred sunscreen, in its original bottle labeled with your child's name. We provide Rocky Mountain Sunscreen, SPF 30.
Bug spray, if desired. We are not allowed to provide this per licensing regulations.
1-2 pairs of shoes that can get wet, and sturdy running/climbing shoes – these may or may not be the same pair.
At least one extra set of socks and clothes in case they get soaked, which tends to happen on hot days when the water balloons, slip n' slide, and other watery surprises appear!
Sun hat
One light extra layer and/or raincoat
Every child MUST have the following items on file at Bixby Summer Camp before the first day your child attends camp:
Any medication administration plan and medications, if applicable
Any dietary needs/restrictions must be provided in writing to the Director of Auxiliary Programs
Completed and current Colorado Certificate of Immunization or an exemption form (your family's physician can fax this certificate directly to our office)
Daily Schedule 
At Bixby Summer Camp, we believe that open-ended play gives children the space and time to make meaningful connections and develop lasting friendships. Students will experience a mixture of
guided activities based upon children's interests,
time to play alone or in small groups, and
PLENTY of outside time
Check out photos from Summer 2020!
PAYMENTS AND REFUNDS
Active Network will assess a $4.95 weekly registration fee to enroll in Bixby Summer Camp programs. This is non-refundable.
CANCELLATION POLICY:
If your child is withdrawn by April 30, 2022, you will receive a 50% refund of the week's tuition that has been paid minus the deposit.
If your camp week is canceled due to public health guidance, you will have the option to transfer your registration to another camp week, without penalty, if there is space available. If you are unable to transfer due to lack of availability, your registration fee will be refunded in full (minus the deposit).
Any other transfers or cancellations are at the discretion of the Summer Camp Coordinator. Requests must be submitted in writing to summer@bixbyschool.org
Isolation and quarantine guidelines are subject to change and will be addressed on a case-by-case basis with guidance from public health authorities.
The 15% deposit is non-refundable under any circumstances.
Payment for Bixby Summer Camp is due on the 1st of each month your child will attend. Automatic payment will be processed on the morning of the 6th day of each month using the payment method entered upon registration.
In the event that you need to request a refund, you must submit your request in writing, including an explanation to summer@bixbyschool.org.
TRANSFER POLICY
Please inform the Director by email of any transfers you would like to make from one week to another. Transfers are subject to space available and at the discretion of the Director.
PICK-UP AND DROP-OFF POLICIES
Drop off and Pick up Hours
Camp Day Campers may be dropped off for the camp day between 8:45 am-9:00 am and picked up between 3:00 pm-3:10 pm.
Early Drop Offs/Late Pick Ups
In order to provide adequate supervision and care for campers, we are unable to accommodate early drop offs or late pick ups. Any camper that is is dropped off more than 15 minutes before their designated drop off time or picked up more than 15 minutes after their designated pick up time will be charged $5 for each 5 minute increment. Please call the school to notify us of any late drop off or pick-up changes.
CAMPER ABSENCES AND NOTIFICATION OF AUTHORIZED PICK UP PERSONNEL
Parents/guardians must notify summer@bixbyschool.org or call the main office if a child will be absent. Bixby will call parents if a child is registered but does not arrive at camp and the Director has not been previously notified of an absence.
Authorized Pick Up Persons
Only authorized people may pick up a child from camp. If there is a change in pick-up, there must be a written notice including the date and name of the person who will be picking up the camper. All pick up persons should be prepared to present a valid form of ID to staff.
QUESTIONS?  Call 303-494-7508 ext. 8 or email Hannah at summer@bixbyschool.org
Testimonials
From parents
"THANK YOU from the bottom of my heart to you all and this amazing school community! The video of week 1 summer camp has me crying my afternoon tea – the Williamson family continues to be incredibly grateful for each of you and your time/talents. Isla and Oliver's lives have been richer and fuller because of this special school. Thank you!!
"Best summer camp in town!"
"Finally a camp where children can play AND learn!"
"Bixby Camp is a part of every summer for us."
"The staff is amazing!"
"We love your camps!"
What kids have to say
""There were no tears, and if I did cry, it was only out of happiness to be back at Bixby." – Leo, 7th Grade
"Seeing Bixby again is like seeing a friend, it's not like a regular place, it's more like something you're friends with".
– Philippa, 3rd grade
"I love making new friends at camp and swimming and playing." – Sasha, 2nd grade
"I came here for camp but stayed for school! That is how much we liked it!" – AJ 1st grade